TIM-ING CENTAR company was founded.
The founder and owner of the company is Turanjanin Dragan whose innovative business ideas were always ahead of their time.
At the beginning, main activities of the company were production of metal constructions, awnings, sunshades as well as production of aluminium joinery.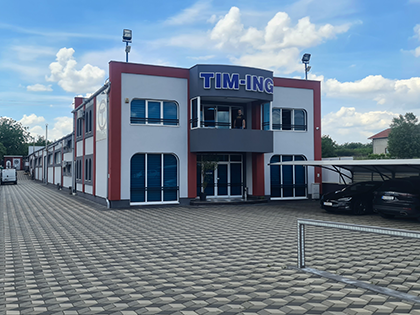 Based on the acquired experience in the aluminium profiles bending field, the company develops a unique model of the machine adapted for bending aluminium joinery profiles.
The company introduces completely new and unique method for bending PVC profiles using a machine with three rollers. The idea was developed by the 18 years old son of the owner, Uroš Turanjanin, who is today the owner of this world-renowned company that produces specialized machines for bending aluminium and PVC joinery profiles.
The company is relocated to the newly built production facilities, covering 1.350 square meters area.
Cooperating with one of the world's most experienced researchers in the optoelectronics field, the company  reaches significant improvements, leading to the installation of the high-precision 3D cameras to the  machines and creating the state-of-the-art system for automated control of the bending process.
The company TIM-ING CENTAR secures the patent rights in the largest world markets (in the United States of America, Europe and within the Eurasian Union).
Thus, the application of the 3D cameras to the profile bending process on the bending machine for aluminum and PVC profile was patented.
The director and owner of our company, Mr. Uroš Turanjanin, was the first prize winner of the World Intellectual Property Organization (WIPO) for a patent.

This award was won for the patented invention entitled: "The Application of 3D cameras to the profile bending process on the bending machine with three- and four-roller", in the category of inventor or group of inventors for the patent.